Published November 17, 2023
November 17, 2023 – Gotodoctor.ca ("Gotodoctor"), CEO, Tommy Cheung, and Senior Advisor, Arthur Kennedy, were recently interviewed by Benefits and Pensions Monitor ("BPM"), a national leading source of news, analysis and insights for professionals within the benefits, pension and institutional investment space. 
The discussion was about Gotodoctor's ability to efficiently reduce, patient wait time for healthcare services while aligning with the public and private employee benefits, Read the full feature here.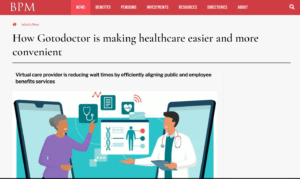 About Gotodoctor.ca
Gotodoctor.ca is a leading B2B healthcare technology platform that connects to an estimated a million Canadians through its unique Service Engine and hybrid primary care network. The platform integrates virtual care and in-person pharmacy and clinic Service Sites, and enables members to access comprehensive and scalable physician and other healthcare services. Gotodoctor.ca is a preferred provider for McKesson Canada's Rexall and Retail Banner Group (IDA, Guardian, Remedy's Rx) pharmacies. Its Digital Employee Services and Data Offerings technologies are already adopted and are utilized by major Canadian Enterprises, TPAs, and other enterprises, like Manitoba Blue Cross, Novartis Canada, SEB Administrative Services, The Leslie Group, Quick Health Access, Simply Benefits, and Automated Administration Services.
For more information, visit www.gotodoctor.ca or email info@gotodoctor.ca.